Properties:
SIM Card for IOT and M2M solutions
Shared data pooling between devices and/ or machines
300 MB valid for 5 years
No Roaming costs
To be used in more than 75 contries
Multiple networks in every country
Additional data and countries available
Realtime IoT platform possible
Description:
CheerIoT SIM cards are specifically designed for IoT and M2M applications and solutions. Companies in this specific market require and rely on stable and affordable internet connections.
The CheerIot SIM cards will work properly in most countries on the globe. CheerIoT has coverage for USA, Japan, Australia Europe. CheerIoT SIM cards are able to connect to multiple mobile networks within every country. In this way network redundancy is created.
Based on a data usage of 5 MB eevry month costs stay under € 0,15 eauch month. Data can be shared over multiple simcard in 1 account (shared data pooling). The 300 MB sim card is roaming free and valid for 60 months. See our proposition below.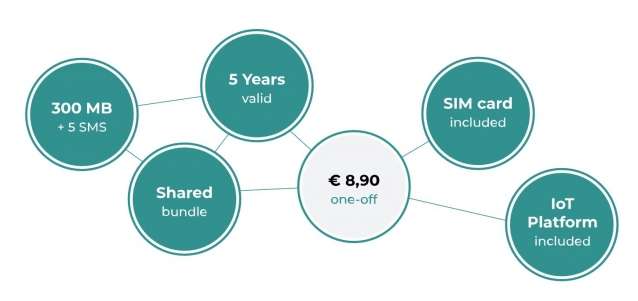 Roaming:
Cheeriot sim cards are roaming free. Our 300 MB simcard can be used in 75 countries. Additional data and countries can be added simply and prepaid online. Click here for our tariff list.
CheerIoT Cloud platform for IoT and M2M applications
CheerIot Sim card can be remotely managed by the CheerIoT Cloud platform. Features like coneectivity management and reporting tools are availabel via api. In this way it is possible to integrate and build special applications.
With a few mouse clicks it is possible to setup a secure VPN between the data card and a companies data centre. View via this link how it is done.
Test Sim Card:
Test sim cards are free of charge and available on request. The sim card contains a 100 MB databundle and is valid for 2 months.
Interested? order here your test sim card