Properties:
Machine to Machine router M2M
2 pcs external Sim card holders
Dual Wan
Downloadspeed up to 150 Mbps
Uploadspeed up tot 50 Mbps
LTE 700/800/900/1800/2100/2600 MHz
3G/ UMTS frequenties: 900/2100 MHz
Wireless IEEE 802.11 b/g/n,
3 x 10/100 Mbps LAN-poort
1 x 10/100 Mbps WAN-poort
2 x antenne aansluiting LTE (SMA)
1 x antenne aansluiting WiFi (RP-SMA)
Din Rail Mount (optional)
Voeding 7-30VDC wide input
SMS reboot functie
Description
TELTONIKA RUT950 is a highly reliable and secure 4G Machine to Machine router for professional applications. Thet RUT950 delivers high performance, mission-critical cellular. Through the dual SIM failover function of RUT950 the LTE Router offers the possibility to build a redundant 4G connection. The external antenna connectors allow the use of an external, high-performance LTE antenna. For LTE MiMo antennas visit our website https://www.mifi-hotspots.com/antenna-s/lte-mimo-antennas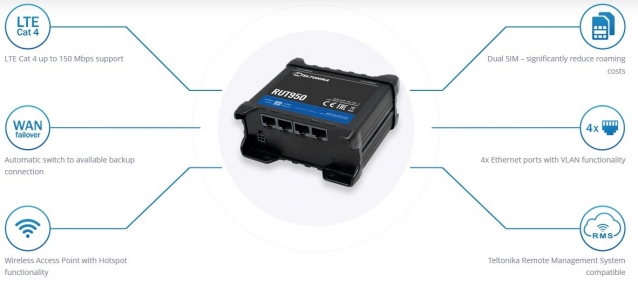 The RUT950 allows you to set up a constant 4G / LTE or 3G / UMTS internet connection with transfer rates of up to 150 Mbps downlink and 50 Mbps uplink in 4G mode and 42 Mbps download and 5.76 Mbps upload (DC-HSPA + standard) in 3G mode. With the RUT 950 you can set up a wireless / wired network to share with several terminals LTE or UMTS connections to utilize.
TELTONIKA RUT950 LTE router has two SIM card slots. You can use two different providers to build a redundant LTE or 3G connection with Failover and Fallback functionality.

Built-in WiFi access point allows to create your own wireless network or hotspot. This WiFI Access Point offers transfer rates of up to 300Mbps (Wireless N standard) with latest encryption and security standards such as WPA / WPA-2. The connection of wired Devices and integration into an existing wired network is easily done with the integrated 3-port 10/100Mbps Ethernet switch.
If no 4G or 3G signal is available, you can alternatively use the RUT950 as a DSL router mode or WiFi client mode. The built-in fallback function will keep you to stay online.
In addition, the RUT950 has two external LTE antenna SMA Male connectors . So you can connect your external antenna to the LTE/aux port and strengthen the available UMTS or LTE signal in areas where the broadband signal is poor. A user-friendly web interface allows you to configure the router.
A rugged aluminum housing and solid engineering ensures consistent performance, reliability and durability in harsh and demanding environments.
Remote management System
Configuring your router can be done with the enhanced web interface. If larger quantities of routers has to be managed and remotely controlled the Teltonika Remote management Sytem is a great tool. Follow the link to the Teltonika RMS. Mifi-Hotspot offers you a 3-unit RMS pack as an intro for free.
Teltonika Wiki:
For support and the latest firmware updates we refer to theTeltonika WiKi Knowledegbase.
Managed Sim cards for IoT and M2M Applications
If SIM cards are required for IoT and M2M follow this link. Our sim cards are roming free, have global coverage and can be managed a cloud platform.
In the Box:
Teltonika U022C0 RUT950 4G LTE router
Ean code: 4779027311289
Condition: new
Manual English
Power Adapter wide input
3G/4G antenna 2x
Wifi antenna 2x
Din Rail (optional)
UTP- Cable