Characteristics:
RUT 240 06E000


External SIM card holder

Download speed: up to 150 Mbps
Upload speed: up to 50 Mbps
LTE 800/850/900/1800/2100/2300/2500/2600 MHz
3G / UMTS frequencies: 850/900/2100 MHz
Wireless IEEE 802.11 b / g / n,
Up to 32 connections at the same time
1 x 10/100 Mbps LAN port
1 x 10/100 Mbps WAN port
2 x antenna connection LTE (SMA)
1 x antenna connection WiFi (RP-SMA)
SMS Control


Description
With the multifunctional industrial Teltonika RUT240 4G / LTE router, any location can be provided with a fast and stable Wi-Fi network that is connected to the internet via a fast 4G / LTE data connection and / or a fixed line. Thanks to the built-in "automatic failover", the Teltonika RUT240 06E000 4G / LTE hotspot automatically switches between a fixed line connection to the mobile 4G / LTE network and vice versa. The Teltonika RUT240 is equipped with an external SIM card holder, so you can easily switch to another provider. Due to its extensive professional features, the RUT240 is very suitable for installation in industrial environments. The RUT 240 4G / LTE Machine to Machine (M2M) router can be equipped with a DIN rail kit, so that it can be built into a system cabinet.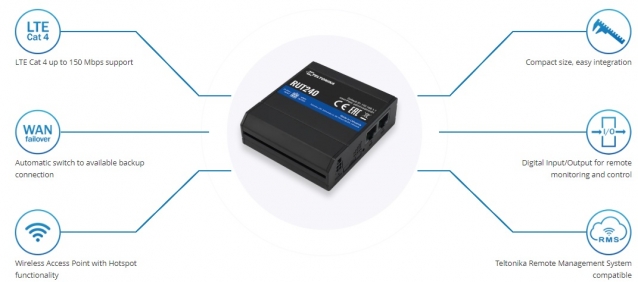 Connected to the Mobile 4G / LTE network, the Teltonika RUT240 dual wan router offers 32 users super fast internet with speeds up to 150 Mbps down and uploads up to 50 Mbps. In locations where 4G / LTE network coverage is not yet available, the Teltonika RUT240 automatically switches back to the 3G or 2G network.
The Teltonika RUT240 has 1 LAN port (RJ45), 1 WAN port (RJ 45), 2 external SMA Female antenna connections and 1 SMA female RP WiFi antenna connection. The Teltonika RUT240 4G / LTE has a built-in DHCP server, DNS relay, NAT and more Professional features.
The Wi-Fi network of the Teltonika RUT240 06E000 4G / LTE router is suitable for all types of Wi-Fi devices, such as the Apple iPad, iPhone, Samsung Galaxy and many more. The Teltonika RUT240 SMART 4G / LTE router worldwide supports the following modern networks such as: 4G / LTE 800/850/900/1800/2100/2300/2500/2600 MHz 3G 900 / 2100MHz and 850/900/1800/1900 MHz on the 2G network.
Setting up the router is easy via a clear and user-friendly web interface.
In locations where the 4G / LTE signal is low, an external antenna can be connected to the SMA female antenna port. The external antenna is sold separately at www.mifi-hotspot.nl.
The Teltonika RUT240 comes in a sealed box. After receipt, open the device, and insert the SIM card in the appropriate holder. The device is powered by an external adapter. The device can be connected to a computer via a network cable (UTP). Now the Teltonika RUT240 router can be configured for use. After the RUT240 has been set up, a powerful and stable network is available.
More information
The latest information about the Teltonika RUT240 can be found on the Teltonika site
In the box
1x Teltonika RUT240 06E000 LTE router
1x English manual
1x Power Adapter 9VDC-1 A.
2x 4G / LTE antenna
1x WiFi antenna
1x UTP cable