Properties
Frequency Range 2400-2500/ 3300-3800/ 5000-6000 MHz
1-14"Marine mount
Marine antenna
Omni Dual (Tri)band Wi-Fi
Mast and wall mount
Connector 1x N-Female
Gain up to 7,5 Dbi

Description
The new Poynting A-OMNI-496 Dual-Band Wi-Fi Marine antenna can connect to any Wi-Fi access point whether it is older Wi-Fi technology or new dual band Wi-Fi technology. This OMNI-496-V1-01 antenna provides the ultimate in Wi-Fi performance. The Poynting A-OMNI-496 Wi-Fi antenna has a single linear high gain dual band antenna in one enclosure. This means the Poynting OMNI 496 antenna can be used for point to point links in cluttered environments.
The Poynting OMNI-496 Wi-Fi antenna operates in two frequency bands 2.4 GHz and 5 GHz, offering excellent utilization of the radio spectrum. This OMNI-496 has 6 dBi gain at 2.4GHz band and 7,5 dBi gain at the 5GHz band, which offers the best performance with reliable connections. As an extra the OMNI-496 also can operate on the 3500 Wimax band.The housing is made of ABS which is high impact resistant plastic and is also resistant to acids and other chemicals that may occur in industrial plants, Yachts, ferries ao.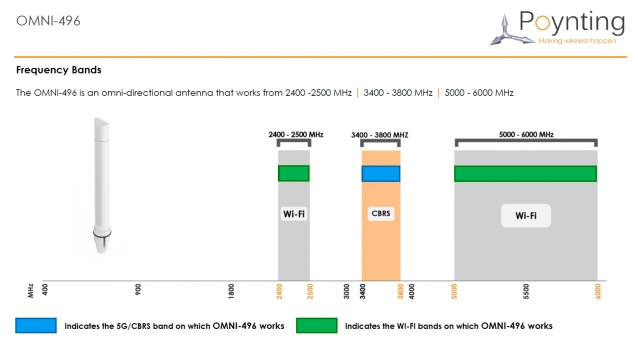 The Poynting OMNI-496 dual band Wi-Fi antenna has a N-female connector at the bottom.
Read more about the Ponting 0mni 496 Marine wifi antenna on the website poynting.tech
In the box
1x Poynting A-OMNI-0496-V1-01 omni directional dual band wifi antenna
EAN 6009880915156
1x 1-14" Marine Mount
1x Wall-and mast mount
1x User manual (English)