Features:
Freqency range 617-3800MHz
Wifi-freq 2,4-2,5 GHz
EAN6009710923504
Type:4x4 Omni MiMo 5G/LTE Marine Antenna
High performance Marine antenne
LTE/5G future proof
BRKT-40 1"-14 Marine bracket RVS316
L-Bracket for wall and pole mount RVS316
Gain: Max 4,0 Dbi
Cable 4x HDF195 l=2 mtr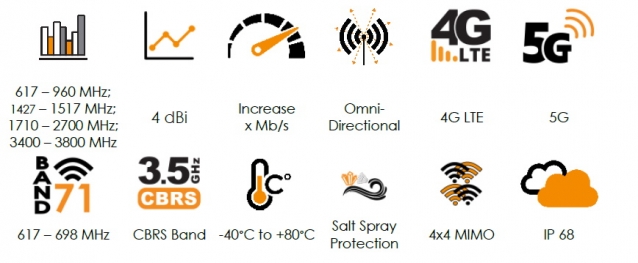 Description:
The Poynting OMNI-A0414 is an ultra-wide band LTE and WIFI antenna, which covers all LTE operating frequencies(410-3800MHz) with an excellent gain across all frequencies. The Poynting-A0414 is a 2x2 MIMO omni antenna and has 2 separated radiating elements placed above each other in the same radome. With a frequency reach up to 3800 MHz this antenna is suited for the future 5G network.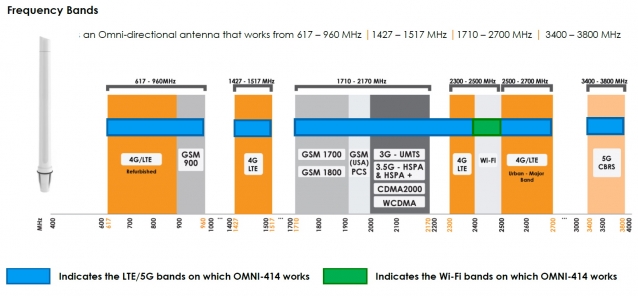 The Poynting OMNI-0414 MiMo antenna comes with an L mount suitable for wall and mast mounting. Also included is a BRKT-40 1"-14 Marine Support SS316, which allows you to easily mount the antenna on a shipboard antenna mount on an antenna bracket. Other optional antenna mounts include the BRKT-37 (Heavy duty deck mount), BRKT-38 (heavy duty Adjustable railing mount) and the BRKT-39 (Heavy duty adjustable deck mount).
Due to the brilliant antenna design the Poynting Omni-a0414 lte MiMo antenna has a superior radiation pattern over the entire frequency range. With the Poynting 4x4 OMNI-A0414 you have a true high performance omni-directional 4x4 MIMO antenna, suitable for marine and coastal applications.
The Poynting A-OMNI-0414-V1-01 guarantees signal reception almost everywhere around the world. Poynting Antennas achieves this through new antenna configuration using multiple dipoles and a unique (patented) feed network. The antenna is 5G-future proof as it covers the 617-3800MHz LTE frequency which is becoming more popular in various regions and countries!
Application Areas
Marine applications / Yachts / Boats / Ferries
Enhanced LTE Reception
IoT and M2M
Poor data signal reception
Improve data transmission connection reliability & stability
Wi-Fi Applications


In the box
1x Poynting OMNI-A0414-V1-01
EAN 6009710923504
1x L- Bracket for wall and pole mount
1x BRKT-40 1"-14 Marine bracket RVS316
1x User manual (English)