Properties

Description
Add a mobile backup to the xDSL connection with the Peplink Balance 20X SD-WAN Router SD-WAN Dual. If a single connection is disrupted, the user will not be disadvantaged using the WAN Automatic Failover.
FlexxModule Mini Slot
The FlexxModule Mini Slot supports various WAN technologies. The Pepwave Balance 20X offers the possibility to increase your connection to a second LTE.
PrimeCare
PrimeCare offers everything you will need for an unbreakable and scalable connection:
Full SpeedFusion Capacity
Central Management
Unlimited FusionHub Licenses
Warranty Support

With a monthly fee you will be able to use several benefits, such as: Lower entry costs, a wide range of services and a lower fee. Read more about PrimeCare at related products.
Security with PepVPN, Firewall and QoS
Create a secured network using only one IP-address with the MAX BR1 from PepVPN. The VPN connection uses IPsec encryption, that the connection ensures to never be disrupted using Hot Failover. In addition, your network is protected with the SPI firewall. This blocks unwelcome websites for (part of) the connected devices. With Quality of Services you can prioritize data flows.
Peplink Speedfusion Solution
The Hot Failover, WAN Smoothing and bandwidth bonding prevent your network from specific technical problems. These elements ensure a high-performance internet connection. If the connection is disrupted the router recognizes the problems and will lead the traffic to other available connections. Therefore, the user will not be disadvantaged, and no performance loss will occur.

Read more about the Peplink Speedfusion Solution
InControl2 Remote Management and Fleet-tracking
All routers will be monitored and managed remotely using the built-in GPS tracking and InControl2 cloud based management. For example, by using the Peplink app that provides an overview of the location of all vehicles in the fleet. This mobile app is available in the app store.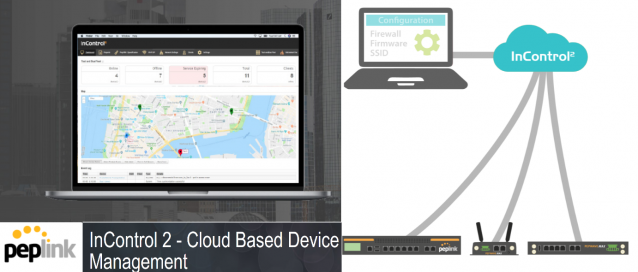 Click here for the InControl2 video
Peplink Product page Balance 20X
What you will find in the box:
1x Balance 20X SD-WAN Router
1x LTE Antenna x 2 (ACW-813)
1x GPS Antenna x 1 (ACW-232)
1x Wi-Fi Antenna x 2 (ACW-341)
1x 12 VDC 3A PSU x 1 (ACW-602)