Properties:
Simlockfree
Embedded Cloud Sim 140+ countries
No subscription required
The best data rates wordlwide
Activate your data with one click
Free 3 x 1 day of unlimited data
Dual Sim
Download 150 MBps
World coverage
Secure Cloud VPN
Secure P2P VPN Tunnel
Powerbank function
Description:
The We.Stream is the first Mobile Hotspot with embedded cloud technology and Secure VPN. Embedded cloud technology creates a Virtual Sim and enables travellers to connect to the internet at any time, at any place in the world. With the secure VPN technology employees can establish a secure encrypted P2P connection with their company server. Westream is launched by Modicon in 2018 and provides intercontinental travellers unlimited data in more than 145 countries. Watch the video on the We.Stream website.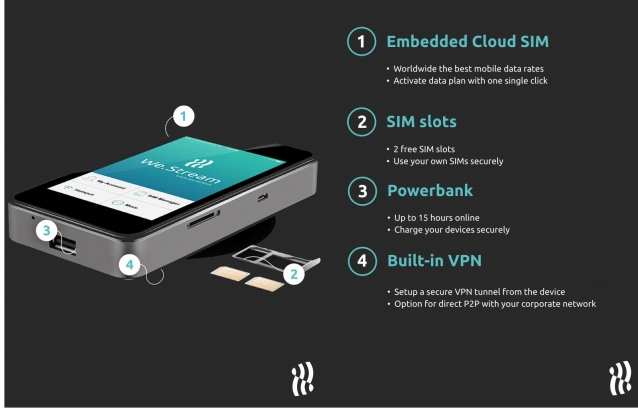 The WE.STREAM LTE mobile hotspot supports max 5 users. This means that you can enjoy fast internet with 4 more collegues. The We.stream mifi hotspot supports multiple WiFi devices such as Apple iPad, iPod, iPhone, Samsung Galaxy and more.
The We.Stream mifi router supports worldwide the following bands: LTE FDD: Band 1/2/3/4/5/7/8/9/17/19/20 en LTE TDD: 38/39/40/41 and UMTS Band: 1/2/3/4/5/6/8/9/19, but it also supports the old 2G GSM network frequencies 850/900/1800/1900 MHz. This means the We.Stream has worldwide coverage and meet the requirements of global travellers.
Secure VPN Solution
We.Stream is the first mobile WiFi hotspot with built-in VPN for secure browsing. In this video we show how easy it is to enable VPN on your We.Stream. Secure worldwide internet is just a few clicks away. We.Stream offers both a Cloud VPN and a custom VPN for a direct connection to your corporate network.
Cloud Sim
The embedded Cloud Sim converts the We.Stream to a truly unique product.The cloud Sim utilises multiple mobile networks within each country and proactively selects the best available network. In this way you are assured of the best and affordable internet in the world.
Data Plans
All data plans can be used worldwide in more than 145 countries. You can choose for a plan for 1 day, 30 days and 1 year plan.
Yearly Data Plans:
Unlimited 1 Year (2GB/ month high speed) € 20,75 excl. VAT per month
Unlimited Plus 1 Year (5GB/ month high speed) € 41,50 excl. VAT per month
Unlimited Gold 1 Year (2GB/ month high speed) € 149,00 excl. VAT per month
Daily Data Plans:
Unlimited 1 day (0,5 GB/ day high speed) € 8,00 excl. VAT per day
Unlimited 1 week (0,5 GB/ day high speed) € 7,00 excl. VAT per day
30-days Data Plans:
5 GB for 30-days € 99,00 excl. VAT for 30 days
10 GB for 30-days € 149,00 excl. VAT for 30 days
All data plans can be purchased via the We.Stream device or via the Top-Up button on the We.Stream website
All data plans can be used in over 145 countries worldwide
All data plans are charged in advanced for the full period
Fair Use Policy for Annual and Daily plans: After using the high-speed data, speed is levelled.Basic browsing, texting and emailing is still possible.
The unlimited week plan can't be combined with an unlimited year plan
There are no subscription fees charged
All data plan prices excluding VAT
In the Box:
We.Stream Mobile hotspot
3 x 1 day unlimited data
Manual
USB to micro USB cable
Sim slot peg
Manual English