Peplinks SpeedFusion Technologie explained

Boost the bandwidth of existing VPN connections using Peplink's Speedfusion Technology. This technology offers the possibility to stack the bandwidth up to thirteen available software connections. For instance, DSL, 3G, 4G or other available connections within the organization. The connections are software-transformed into a single fast, reliable and budget bundled data.
Incontrol2
Peplink works with the cloud application InControl2, which makes it easy to set up a SpeedFusion network with the PepVPN configuration tool.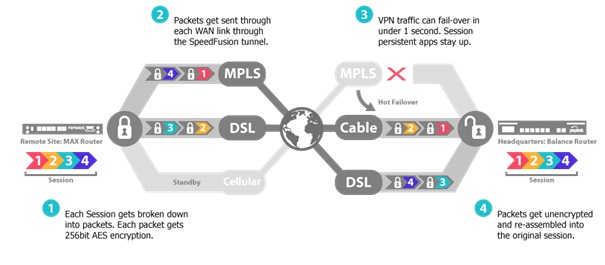 How Peplink SpeedFusion Failover works

Peplink SpeedFusion solution:
Made of three advanced technologies the Peplink SpeedFusion solution prevents specific network problems using Hot Failover, WAN-Smoothing and Bandwith Bonding. As a result, your users will always make optimal use of a high-performance internet connection.
Hot Failover
Is the WAN connection suddenly disrupted? The HotFailover redirects the data traffic via another existing connection. This technology ensures that your network is always online without interruptions ensuring connection reliability.
Wan Smoothing
Based on smart algorithms, the WAN Smoothing technology ensures that data will not get lost in data traffic. The technology prevents glitches and minimizes delays, so you will be able to download software effortlessly.
Bandwith Bonding
The Bandwith Bonding technology offers the possibility to merge up to thirteen data connections. Moreover, this technology sets up a redundant data connection consisting of high bandwidth that provides high speed internet.