Properties
Increase the number of Peplink VPN / SpeedFusion peers
License for 5, 10 or 20 peers

Description
With this license you will increase the number of PepVPN connections from 2 to 5, 10 from 20. This will alleviate the bottleneck that when using connections for headquarters and connect to multiple remote sites.
SpeedFusion technology supports business VPNs that have the bandwidth of up to 13 low-cost cable, DSL, 4G LTE / 3G and other links connected anywhere on your corporate or institutional WAN. Whether you're transferring a few documents from real-time POS data, generating video feeds and VoIP calls, SpeedFusion pumps all your data into one large data pipe that is budget-friendly, super-fast and easy to configure for any network environment.
PepVPN is introduced to make it yet to make migrate to SpeedFusion. Whether you want all the benefits of SpeedFusion immediately or you prefer to migrate in stages, our new three-tier structure makes it simple, affordable and convenient.
PepVPN
With PepVPN you can create a secure network with one static IP address. The VPN connection uses IPsec encryption and the connection is never broken through Hot Failover. In addition, your network is protected by an SPI firewall. This blocks unwanted websites for (part of) the connected devices. With Quality of Services you also give priority to the data flows, so that these processes always work.
The balance works with a license for both SpeedFusion and PepVPN. For other devices, it only works for PepVPN and SpeedFusion does not turn on.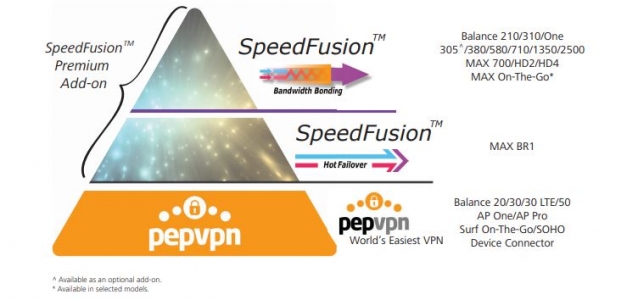 SpeedFusion Hot Failover
manages multiple redundant connections to maintain VPNs and VoIP implementations at all times.
With other VPN technologies, WAN failover terminates existing VPN connections, which is costly downtime. SpeedFusion Hot Failover prevents this by maintaining secure tunnels across all available WAN links. In the case of a WAN storage, SpeedFusion Hot Failover changes traffic immediately and seamlessly to another available tunnel. This ensures unbreakable VPNs and VoIP sessions.
SpeedFusion bonding
Hand in hand with Hot Failover and PepVPN, SpeedFusion Bonding bundles all your connections to give you amazing throughput when you need it.
SpeedFusion Bonding multiple links from different providers to one large data throughput. Bonding monitors connections and automatically switches to Hot Failover automatically when connections become unstable. Bandwidth can be adjusted for a specific project. Enable connections from any provider and instantly create more bandwidth. When less bandwidth is required, remove the connection, thus saving direct costs.
In the box
1x PVN-LC PepVPN / Speedfusion Peers license