Pepwave Balanc Routers

Create an extremely reliable internet connection with the Business Peplink Balance Multi WAN Router. The Peplink Balance Multi WAN Router is provided with an extra stable bandwidth to easily combine up to 13 different internet connections. Moreover, thanks to the high throughput speed of the Peplink Balance routers the internet connection is fast and reliable. If a single connection drops the user will not be disadvantaged because of the SpeedFusion Hot Failover. Therefore, the routers are extremely suitable for business-critical process and business environments.
Easily reduce your internet costs by replacing your valuable internet connection with this less expensive alternative of Peplinke Balance routers. The Peplink Balance routers are designed to provide companies with years of up-time with a standing record of 1252 days.
Click here for the usability of the Peplink SpeedFusion Hotfailover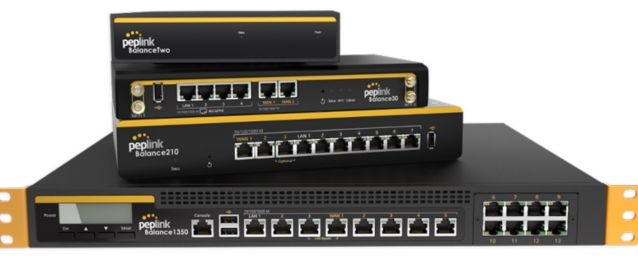 Speedfusion bandwith bonding
The technology at heart of every Peplink Multi WAN Balance Router. Combine all available internet connections into one high bandwidth connection with SpeedFusion Bandwith Bonding. Does your connection fail? Then it is easily taken over by the other available connections. This is also referred to as the WAN Failover, which the user will of course not notice. This way, the Peplink Multi WAN router offers you the best performance.
VPN Connections
The Peplink Balance routers support VPN connections, also known as PepVPN peers. Thanks to load balancing a stable and secure VPN connection is always set up, which distributes the available traffic over the correct connections.
AP Controller
Manage up to 1500 wireless access points remotely with Peplink's AP Controller. Thanks to the simple interface you have insight into reports and detailed event logs. In addition, using the Captive Portal feature you have the option of setting up a customer hotspot. Easily determine the connection speed and a data limit using the AP Controller for optimal use of your Peplink Balance router (s).
InControl
Using InControl2, a Peplink cloud-service, you will be able to monitor your networks bandwidth consumption, connection status, connected clients with the easy-to-use bird-eye view. Remotely access every web Admin of any router in your network. You can adjust your routers configuration and push it to multiple devices at the same time.
LAN Bypass and Drop-In
In the event of a power failure, the Peplink LAN Bypass feature connects the WAN1 port to the LAN1 port of the router. Known to be "bridged", which means that internet traffic remains available even though the router is turned off. Once the feature is used in drop-in mode it is possible to add the Balance router to the network without interrupting the connection.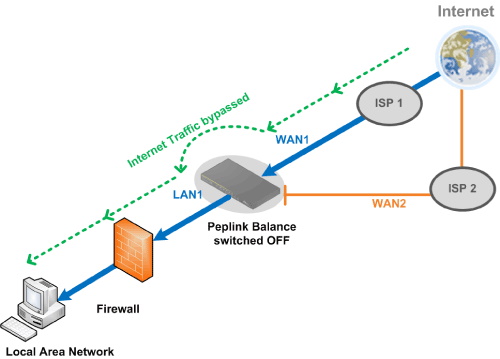 Peplink Balance 305 External product page
Visit our Peplink Balance routers page