Properties:
Peplink Multi WAN (3) Balance Router 310
EAN 718122693917
7x GB LAN ports
3x GB WAN Ports
350 Mbps throughput
80 MBps VPN Throughput
Speedfusion Hot Failover
Load Balacing
High Availability
Speedfusion WAN Smoothing
Speedfusion Bandwidth Bonding
AP Controller
25-150 users


Description
Create an extremely reliable internet connection with the BPL-310 business Peplink Balance Multi WAN. The Peplink Balance 310 Multi WAN is equipped with extra stable bandwidth. When a single connection drops, the user will not be disadvantaged because of the SpeedFusion Hot Failover. The routers are therefore extremely suitable for business-critical process and business environments.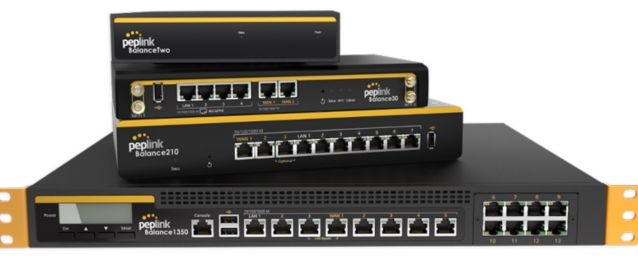 Speedfusion bandwith bonding
Combine all available internet connections into one high bandwidth connection with SpeedFusion Bandwith Bonding. Is a connection disrupted? Then it is seamlessly taken over by the other available connections. This is also called the WAN Failover, of which the user will not be disadvantaged. Therefore, the Peplink Multi WAN routers offer you the best performance.
Load Balancing and high availaiblity
The Peplink Multi WAN Balance routers create the availability to prioritize and divide internet connections. Load balancing distributes the traffic over the available connections with seven adaptable settings. Prioritize important internet traffic (for example: VoIP) and generate higher availability.
VPN Connections
The Peplink Balance 310 supports VPN connections. A stable and secure VPN connection is always setup using load balancing, which distributes the available connections. The Peplink BPL-310 is equipped with a VPN throughput of 80 Mbps. Accordingly, you will have fast internet, even when one connection is disrupted.
AP Controller
Remotely manage up to 1500 wireless access points with Peplink's AP Controller. Using the simple interface, you will have insight into reports and detailed event logs. Therefore, you will have the option to set up a customer hotspot using the Captive Portal feature. Easily determine the connection speed and data limits utilizing AP Controller and obtain optimal use of your Peplink Balance router(s).
InControl2
Manage- and monitor your branches remotely in a central overview using InControl2. Each Peplink router in the network offers the possibility to operate the website interface remotely. In addition, you can also easily implement configuration changes by one single push on the button.
Peplink Balance 310 product page

What you will find in the package:
1x BPL-310 Peplink MULTI WAN Balance Router
EAN 718122693917
1x 12V2A Power Supply (ACW-601)
1x Pair of Mounting Brackets (ACW-731)
1x QS Manual English