Properties:
Peplink BPL-210 Dual WAN Router
7 GB LAN ports
2 GB WAN Ports
350 Mbps throughput
80 MBps VPN Throughput
Speedfusion Hot Failover
Load Balacing
High Availability
Speedfusion WAN Smoothing
Speedfusion Bandwidth Bonding
AP Controller
25-150 users
Description
The Peplink BPL-210 Balance Dual WAN Router provides an extremely reliable internet connection. The router creates an extra stable bandwidth with a throughput speed of 80Mbps. The user will not be disadvantaged if a single connection fails because of the SpeedFusion Hot Failover.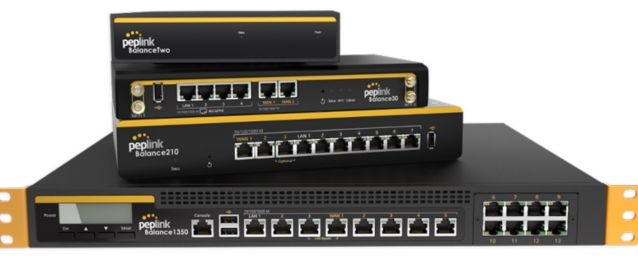 Speedfusion bandwith bonding
Combine all available internet connections into one high bandwidth connection with SpeedFusion Bandwith Bonding. As soon as one of the connections is disrupted, the available connections will take over the network immediately. This is also called WAN Failover. The Peplink 210 Dual WAN router offers you therefore the best performance.
VPN Connections
The BPL-210 Balance Dual WAN Routers is supported with VPN Connections. Thanks to load balancing, a stable and secure VPN connection is always set up, which enables the distribution of the traffic over the available connections. The Peplink BPL-210 contains a VPN throughput of 80 Mbps, that ensures a fast internet connection even when one connection is disrupted.
AP Controller
The Peplink AP Controller offers you the possibility to manage up to 1500 wireless access points remotely. The easy-to-use interface provides insights into reports and detailed event logs. Now, you will have the option to set up a customer hotspot using the Captive Portal feature. Using AP Controller, you can easily determine the connection speed and a data limit using for optimal use of your Peplink Balance router(s).
Load Balancing
The Peplink 210 Dual WAN Balance router offers the possibility to prioritize and balance internet traffic. Load balancing creates the possibility to distribute internet traffic over the available connections with seven adjustable settings. Prioritize important internet traffic (for example: VoIP) and generate higher availability.
InControl2
Monitor- and manage your branches remotely in a central overview using InControl2. Every Peplink router in the network provides the possibility to operate the website interface remotely. Easily implement configuration changes and push it to multiple devices at the same time.

What you will find in the box: